Product Name: QuitGuide
Price: Free
Owner: National Cancer Institute
Download: App Store or Google Play
Overall Rank: 4.8 out of 5.0 Star
Introduction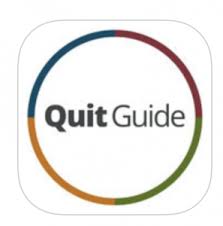 QuitGuide is one of the free quit smoking products and one of the best quit smoking apps. The free quit smoking kit can help you quit smoking by tracking your cigarette cravings and moods, monitoring your progress toward stopping smoking free milestones, discovering your reasons for quitting smoking, identifying smoking triggers and developing strategies to deal with them, get expert guidance on how to quit smoking and address nicotine withdrawal, and access a variety of other strategies to help you successfully quit smoke free.
Setup
Initial setup only takes a minute or two. Upon opening the app, you can customizes the experience by entering a quit date, identifying a motivation for quitting, and uploading a motivational image (eg, a picture of a child or grandchild). You can enlist the help of friends and family by sharing their quit plan through social media platforms (eg, Facebook) with just a single click. The setup is quick and easy.
Main Screen
The main screen of QuitGuide displays the major activities associated with the quit smoking app and includes the followings:
Home
My Quit Plan
My Locations
My Times of Day
My History
My Journals
How to Quit
Settings
Home
Entering the Home screen of the QuitGuide app, users can track whether they were smoke free or slipped, as well as when they have a craving or particular moods that may drive them to smoke. This option is excellent, since the information you get from the trackers may help refining your quitting plan and make quit smoking successful.
Another neat feature is the personal message on why you want to quit smoking. You may add once you decide your quit start date. That message could be anything, from strong motivational manifesto to simple reminder that you can't stand your yellow fingers and smelly breath. Whatever message you choose, it will welcome you each time you open the app. Of course, if you don't like it, you can change it to something else anytime you want.
Beside the motivational message, you can load the picture as a visual reminder of why you want to quit smoking. It could be picture of your family, pet, serene landscape or a motivational poster. Just like the message, it's completely personal and optional choice.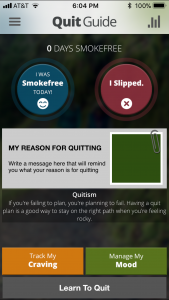 Another particularly nice feature is the personal message on why you want to quit smoking. That message, whether it's to see a child graduate from high school or spend time with grandkids, is front and center every time the user opens the app going forward. They can also load a picture so that every time they open the QuitGuide app they also see a visual reminder, say of their families, of why they want to quit smoking.
Another thing is Quitism, a set of motivational quotes that greet you on a home screen. Each time you start the app, a different quote welcomes you. Positive thoughts and attitude are among the drive forces of smoke cessation process, so Quitism is a nice touch. This feature is particularly useful if you're not good at motivating yourself or have trouble choosing your own motivational message and picture.
From a home screen, you're also able to see and share your statistics by taping the graph icon on the upper right, and access several additional useful features, including:
How many cigarettes don't you smoke?
How much money do you save?
How much time do you save?
Navigating from the main screen, you can also manage your mood by selecting one of nine options ranging from happy to stressed. For more positive moods, you can write a journal entry or take a photo for later. For more negative moods, you are given options to see tips and distractions, view notes and photos from more pleasant moods, add a new entry in their journal, or a suggestion to call a friend.
A countdown until a quit date has been reached if it is in the future or days since quitting if it is in the past. You can either select a button that says "I was smoke free today" or "I slipped." Selecting "I slipped" prompts you to identify the trigger like drinking coffee, taking a work break, finishing a meal, or driving etc.
Back on the main screen, there is a "Track My Craving" option which opens a screen where you can identify the strength of craving on a 10-point scale and a specific trigger, for which the app will offer simple strategies to minimize risk of relapse. For example, if you identify a craving level of between 1 and 5, and identify coffee drinking as the trigger, then the app will suggest trying teeth brushing immediately after finishing the cup.
My Quit Plan
On opening the QuitGuide app, users are prompted to enter some basic information about their quit plan such as your quit date and reasons to be smoke free. You also start to track and monitor progress, such as:
How often do you smoke?
When do you smoke, how many a day?
When do you usually crave the most?
How much do you pay per pack of cigarettes?
My Locations and My Times of Days
QuitGuide also gives you the ability to track cravings by location and time of day, so you can receive support where and when you need it. These can be set up to deliver motivational messages about smoking cessation at the times and places where you are most likely to smoke.
My History and My Journals
For more data-driven smokers, QuitGuide provides some clever visualizations of data entered. The history tab shows a calendar with days in red for slips and green for smoke free days. Users can examine a day-by-day listing of moods, cravings, and triggers. Users can further explore frequencies of logged moods and see a breakdown of events that were associated with lapses or cravings. The app gamifies data as well, giving trophies and presenting the estimated dollar savings from not buying cigarettes, and amount of time saved by not smoking.
How to Quit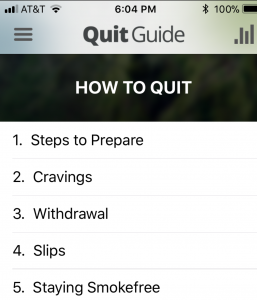 QuitGuide app also offers some useful reference information on how to quit smoking, such as preparing steps, dealing with cravings and withdrawal, avoiding slips, and staying on course and remaining smoke free.
Support
Technical support is available to help you download and use the QuitGuide app. If you need help or have any questions, please contact smokefreeteam@icfi.com.
Benefit
The app is useful for everyone who is trying to quit smoking.
QuitGuide helps you:
Identify your reasons for quitting
Track craving and slips by times of day and location
Track your mood and smoking triggers
Create journal entries
Stay motivated with inspirational messages
Get tips and distractions for dealing with cravings and bad moods
Monitor your progress toward achieving smoke free milestones
The Good and the Bad
    The Good
Ability to enter a reason for quitting with a picture that is front and center with ongoing app use.
Ability to track smoking and cravings to help refine quit plans in follow up.
Location and time based motivational messaging for delivery at key moments when users need support.
Social media integration to help engage family and friends.
Nice and clean design.
Tracking progress, cravings and moods.
The app is actively supported with frequent updates.
The app doesn't require any personal information without user consent or unless required by law.
    The Bad
Lack of interactive and more engaging reference information
Testimonials from QuitGuide Users
"As a former smoker and cessation pharmacist, I find this app to be useful on multiple levels. Because smokers are often reluctant to invest in an app, this easily opens the door to quitting. Lots of info, tools, and support." – Tmack
"Right now I'm feeling determined to quit and stay quit smoking. This seems to be a useful tool to assist me on my journey. Quit Smoking for good!" – Cathy
"HIGHLY RECOMMEND Has a few bugs whenever it comes to the sharing option otherwise a great tool. After 15yrs, I am 13 days smoke free with the help of this app and the text messages. I have no desire to start back again because I quit the right way." – Veronika
Conclusion
The QuitGuide app is a free smoking cessation app from a reputable organization, the National Cancer Institute, that employs a number of different strategies to deliver ongoing support for patients who are trying to quit smoking. It is an intuitive, adaptable, and educational app that is built on smoking cessation theory. We highly recommend this app to those who would like to quit smoking.