Product Name:

Nicorette mini Nicotine Lozenge, Stop Smoking Aid, 4 mg, Mint Flavor, 81 count.
Nicorette mini Nicotine Lozenge, Stop Smoking Aid, 2 mg, Mint Flavor, 81 count.

Product Website:
Owner: Glaxo Smith Klein
Overall Rank: 4.4 out of 5.0 Star
Introduction
Nicotine is the reason for tobacco smoking. Nicotine replacement therapy uses nicotine to replace tobacco smoking. Nicorette Nicotine Lozenge is one of the nicotine replacement therapies and is a tablet specially formulated with nicotine. When placing the lozenge in the mouth, it allows nicotine to dissolve slowly, pass through the mucus of the mouth and enter into the blood, delivering a steady stream of therapeutic nicotine that helps reduce smoker's cravings for cigarettes, thus assists in stopping smoking.
Product Description and Features
There are two strength levels of Nicorette Nicotine Lozenge, 4 mg and 2 mg. Each contains 81 pieces of lozenge. The Lozenge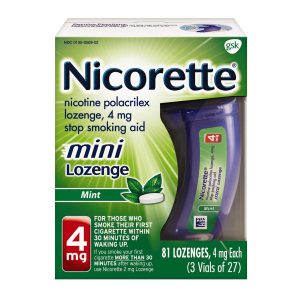 comes in a bold and refreshing mint flavor.
How to Use the Product
Smokers who choose the Nicorette Nicotine Lozenge need to have strong motivation of stopping smoking. The 4 mg strength is recommended for smokers who smoke the first cigarette within 30 minutes of waking up, and the 2 mg strength is for those who smoke the first cigarette more than 30 minutes after waking up. The program last for twelve weeks:
Don't use tobacco smoking after starting the program.
In general, take nine pieces of lozenge per day, or one piece every 1-2 hours, or when cravings occur, for the first six weeks of the program.
Don't eat or drink 15 minutes before or while you're taking Nicorette Nicotine Lozenge.
Nicotine Lozenge Side Effects
The active ingredient in Nicorette Nicotine Lozenge is a low therapeutic dose of nicotine. The side effects of nicotine lozenge are minimal and include hiccups, heartburn, nausea, or other stomach problems. Side effects seem to be the worst at 4 mg strength, so you may want to switch to 2 mg strength if you experience intolerable negative side effects.
Benefits of the Product
Some Nicorette Nicotine Lozenge users reported that it helped them diminish cigarette cravings, reduce or stop tobacco smoking.
The Good and the Bad
    The Good
The product is safe.
The product is effective in assisting smokers reduce or stop smoking.
Easy to use.
Offer a refreshing mint flavor.
Release a relatively steady dose of nicotine throughout the day.
The medicine continues after the lozenge dissolves for long-lasting relief from cravings.
Gradually adjust to receiving less nicotine until you no longer need any at all. By helping relieve cravings, the lozenge enables you to manage the triggers that link cigarettes to your daily activities.
Nicorette Nicotine Lozenges triples the chances of quitting smoking.
Provide a stop smoking option for people who prefer not to or cannot chew nicotine gum.
Offers smokers a practically unnoticeable quit smoking aid.
The product is manufactured by Glaxo Smith Klein, a pioneer and leader in the nicotine lozenge industry.
    The Bad
Smokers need to have strong motivation to quit smoking and have a detailed action plan for the entire program.
Some users addict to nicotine lozenge.
Conclusion
In conclusion, only limited users are addictive to the Nicorette Nicotine Lozenge. It is safe and effective for most of the users who have strong wills to quit smoking. I strongly recommend this product for those who would like to stop smoking.
If you smoke the first cigarette within 30 minutes after waking up
CLICK HERE To Purchase the 4 mg Nicorette Nicotine Lozenge Now
If you smoke the first cigarette more than 30 minutes after waking up
CLICK HERE To Purchase the 2 mg Nicorette Nicotine Lozenge Now