Introduction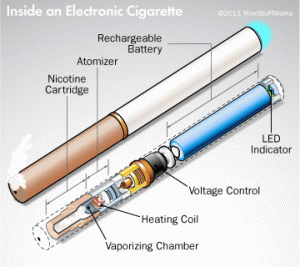 The tobacco industry has been constantly evolving past 500 years. The invention of electronic cigarettes, e-cigarettes, or e-cigs, has revolutionized the tobacco industry recently. Now smokers can enjoy the full effects of smoking and nicotine using e-cigs without the harmful aspects of traditional cigarettes.
Electronic cigarettes deliver nicotine through vaping without burning tobacco and avoid thousands of toxic chemicals and carcinogens. Based on the current knowledge, the e-cigs are healthier alternatives to the traditional tobacco smoking. We are excited about the new technology and introduce the best electronic cigarette brand, Nicocure.
Product Description and Features
The Nicocure electronic cigarette Starter Kit has three different packages, heavy smoker package, medium smoker package, and light smoker package:
    Heavy Smoker Package
2 rechargeable lithium e-cigarette kits for home and office with life time guarantee
2 charging units
Cartridges equal to 35 – 40 packs of cigarettes
Price: $149.95
    Medium Smoker Package
1 charging units
Cartridges equal to 10 – 15 packs of cigarettes
Price: $99.95
    Light Smoker Package
1 rechargeable lithium e-cigarette kits for home and office with life time guarantee
1 charging units
Cartridges equal to 3 – 8 packs of cigarettes
Price: $49.95
Besides the items described in the above, all packages also come with USB charge, wall charge, and durable storage case. The electronic cigarette start kit is Lifetime Warranty, which is the only one with such guarantee in the industry.
Nicocure is generated with Newest e-cig Technology and 400 puffs can be enjoyed from a single cartridge.
    The Design
The Nicocure electronic cigarette is designed like a real cigarette and feels like a real cigarette.
    Size and Weight
The Nicocure e-cig comes with a 78 mm long battery and a 35.5 mm cartomizer, making the total length of 113.5 mm. It's  the optimal size of vape. It has some proper weight, making it nice to hold and vape.
    Battery Life
The single battery of the Nicocure lasts for around 200 to 250 puffs. This is enough for you to enjoy about as much          nicotine as you'd get in a pack of cigarettes, so will last throughout workday for most users. For heavy smoker package, two batteries are included. Charging is pretty quick, taking about two hours to replenish after being fully drained.
    Nicotine Levels
The Nicocure contains four nicotine levels: 6 mg, 12 mg, 18 mg, and 24 mg. This is the standard number of nicotine options and meets the needs of most smokers. There is also a nicotine-free cartridge, which would help those who've overcome their addiction but still want the smoking sensation.
    Flavor and Vapor
The Nicocure provides only the tobacco flavor. It creates solid vapor with high quality of the cloud.
How to Use the Product
The device is ready for enjoy and the only thing you need to do is to screw the cartomizer onto the battery, after you receive the start kit.
The Nicocure Side Effects
There is no reported side effect. This product contains nicotine which causes birth defect and other reproductive harm. Women who are pregnant or breast feeding should not use the Nicocure.
Benefits of the Products
Based on the manufacturer, the success rate of quit smoking by use of this product is 97%.
The Good and the Bad
    The Good
Nicocure, The #1 Electronic Cigarette

The product is safe and there are no ash, toxins, harmful chemicals, synthetic substances, and the like.

It is effective in assisting those who would like to stopping smoking.
No odor, yellow teeth, smelly clothes, and bad breath.
Beautiful design. Look and feel like a real cigarette.
Pleasant vaping experience. Smoke like a real cigarette.
Intensive and satisfying flavor. Taste like a real cigarette
Great battery responsiveness and long-lasting battery. The two batteries come in handy when one goes flat.
This product is a myriad of options, which gives users the chance to choose from a wide range of options.
The blank cartridge makes it easier for a user to have a variety of nicotine strength level.
    The Bad
Testimonials from Nicocure Users
"I've tried other brands of electronic cigarettes and none come close to the Nicocure Cigs "satisfaction action" of inhaling a tobacco cigarette. Nicocure lasts longer than other brands too, and you can choose the strength and flavor that's right for you." – Vince
"We intend to tell all of our friends and relatives about your e-cigarette. In fact, I have encouraged everyone to order before the holidays and take control. We know a great many people who smoke. We have our doctor's blessing on this as well." – Kitty
Conclusion
In conclusion, the Nicocure electronic cigarette resembles the look and feel of a traditional cigarette and smoke and taste like a real cigarette. It is one of the top electronic cigarette brands. Nicocure is safe and effective in assisting those who would like to quit smoking. I strongly recommend this product for people who would like to stop smoking.