Product Name:

Nicorette Nicotine Gum Fresh Mint 4 milligram Stop Smoking Aid 100 count
Nicorette Nicotine Gum Fresh Mint 2 milligram Stop Smoking Aid 100 count

Product Websites:
Owner: Glaxo Smith Klein
Overall Rank: 4.4 out of 5.0 Star
Introduction
Nicotine is the reason for tobacco smoking. Nicotine replacement therapy uses nicotine to replace tobacco smoking. Nicorette Nicotine Gum is one of the nicotine replacement therapies and is a chewing gum specially formulated with nicotine. When chewing the gum, it allows nicotine to pass through the mouth and into the blood, delivering a steady stream of therapeutic nicotine that helps reduce smoker's cravings for cigarettes, thus assists in stopping smoking.
Product Description and Features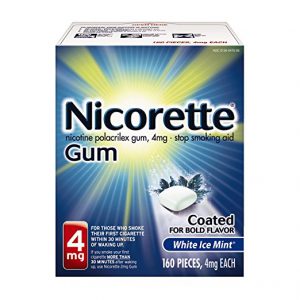 There are two strength levels of Nicorette Nicotine Gum, 4 mg and 2 mg. Each contains 100 pieces of gum. The nicotine gum offers six different tastes, white ice mint, fresh mint, fruit chill, cinnamon surge, regular mint, and original.
How to Use the Product
Smokers who choose the Nicorette Nicotine Gum need to have strong motivation of stopping smoking. The 4 mg strength is recommended for smokers who use 20 or more cigarettes daily, and the 2 mg strength is for those who smoke less than 20 cigarettes daily. The program last for twelve weeks:
Don't use tobacco smoking after starting the program.
In general, chew nine pieces of gum per day, or one piece every 1-2 hours, or when cravings occur, for the first six weeks of the program.
Chew slowly till notice a peppery taste or a tingling sensation in the mouth, then stop chewing until the taste or sensation subsides.
Don't chew gum too quickly, which may cause rapid release of nicotine and lead to side effects.
Don't eat or drink 15 minutes before or while you're chewing Nicorette Nicotine Gum.
Nicotine Gum Side Effects
The active ingredient in Nicorette Nicotine Gum is a low therapeutic dose of nicotine. The side effects of nicotine gum are minimal and include hiccups, heartburn, nausea, or other stomach problems. Side effects seem to be the worst at 4 mg strength, so you may want to switch to 2 mg strength if you experience intolerable negative side effects.
Benefits of the Product
Some Nicorette Nicotine Gum users reported that it helped them diminish cigarette cravings, reduce or stop tobacco smoking.
The Good and the Bad
    The Good
The product is safe.
The product is effective in assisting smokers reduce or stop smoking.
Easy to use.
Come with six different flavors.
Release a relatively steady dose of nicotine throughout the day.
Allow self-regulate nicotine intake as needed.
Gradually adjusts you to receiving less nicotine until you no longer need any at all. By helping relieve cravings, Nicorette enables you to manage the triggers that link cigarettes to your daily activities.
Keeps mouth occupied and overcome the physical effects of quitting smoking.
The product is manufactured by Glaxo Smith Klein, a pioneer and leader in the nicotine gum industry.
Smokers need to have strong motivation to quit smoking and have a detailed action plan for the entire program.
Some users addict to nicotine gum.
    The Bad
Smokers need to have strong motivation to quit smoking and have a detailed action plan for the entire program.
Some users addict to nicotine gum.
Conclusion
In conclusion, the Nicorette Nicotine Gum is the best nicotine gum. It is safe and effective in assisting those who have strong wills to quit smoking. I strongly recommend this product for those who would like to stop smoking.
If you smoke more than 20 cigarettes per day
If you smoke less than 20 cigarettes per day