February 4 is World Cancer Day, an activity organized by Union for International Cancer Control (UICC) that aims to raise cancer awareness and unite all in the fight against cancer.
At Rebrandsmoking, our commitment on World Cancer Day 2018 is to create awareness on smoking, quit smoking, and lung cancer prevention, diagnosis, and treatment. Here are the 10 facts about smoking and lung cancers:
Lung cancer is the leading cancer killer in the world.
Lung cancer accounts for 27% all cancer deaths.
1 in 13 men and 1 in 16 women will get lung cancer in their lifetime.
Only 15% of lung cancers are caught at an early stage.
By the time that an individual with lung cancer develops symptoms, spread has usually occurred. When it has spread to other organs, the survival rate drops to 3.5%.
About 200,000 people are diagnosed with lung cancer in the U.S. each year.
Lung cancer kills nearly 160,000 people in the U. S annually – more people than breast, prostate, colon, liver, kidney and melanoma cancers combined.
Roughly 10% to 15% of lung cancer patients have never smoked.
Smoking is responsible for 90% of lung cancer deaths.
Other causes of lung cancer include: radon, asbestos, air pollution, and family history.
Smoking affects everyone. It affects smoker himself and through secondhand and thirdhand smoking, the smoker transfers the thousand toxins and carcinogens to people nearby.
With modern technology, it is possible for smoker to enjoy the magic nicotine high and avoid the most of the toxins by use of electronic cigarette. We sincerely wish that all tobacco smokers could quit smoking and if not, at least switch to healthier alternative smoking, such as electronic cigarettes.
It should point out that besides smoking, there are many other factors that can play a role in lung cancer development, such as radon, asbestos, and air pollution etc. Be aware of these risk factors and take preventive procedures to avoid these risk factors.
Just as lung cancer affects people in different ways, all people have the power to take various actions to reduce the impact that lung cancer has on individuals, families and communities.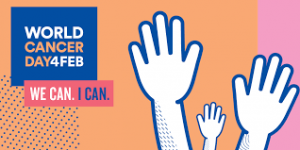 World Cancer Day 2018 is a reminder that how everyone – as a collective or as individuals – can do their part to reduce the burden of lung cancer.
World Cancer Day 2108 is a chance to reflect on what you can do, make a pledge and take action. Whatever you choose to do make a difference to the fight against lung cancer.
We are proud to join with the global community to advance the fight against lung cancer. Lung cancer is still responsible for millions of untimely deaths each year and profoundly affects the lives of those diagnosed and their loved ones. We must all work together to ensure our collective work reaches the millions of patients affected by lung cancer around the world on World Cancer Day 2018 and every day!