A cancer, such as lung cancer, diagnosis can be one of the scariest moments of a person's life. After diagnosis, lung cancer patients, family members, and friends are usually trying to understand and gaining some general knowledge, such as cause, prevention, diagnosis, and treatment, on lung cancer.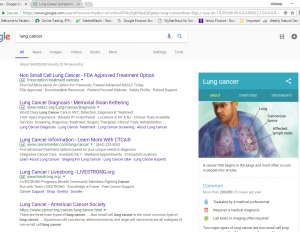 Most people carry out google search on lung cancer. As shown in the right picture, there are more than 54 million search results from the search of lung cancer. At the top of the page, there are four advertisements related to lung cancer, which don't provide general information on lung cancer, but promote lung cancer relevant products and is not helpful in this connection. After advertisements, there are some websites related to the lung cancer. The first one in this search is the website of American Cancer Society. When entering the site, it shows that there are three types of lung cancer: non-small cell lung cancer, small cell lung cancer, and lung carcinoid tumor, which again provides no meaningful results at this point. Apparently, the google search don't provide lung cancer information we intend to know. It is also difficult to determine if the information is reliable and trustworthy.
We find that some top cancer hospitals provide informative and educational materials on lung cancer. Here we have Mayo Clinic, Rochester, MN, as an example.
Entering the Mayo Clinic lung cancer website, you see the following content in the symptoms and causes page:
Overview
Symptoms

A new cough that doesn't go away
Coughing up blood, even a small amount
Shortness of breath
Chest pain
Hoarseness
Losing weight without trying
Bone pain
Headache

Causes

How smoking causes lung cancer
Types of lung cancer

Small cell lung cancer
Non-small cell lung cancer
Risk Factors

Smoking & Lung Cancer

Exposure to secondhand smoke

Exposure to radon gas
Exposure to asbestos and other carcinogens
Family history of lung cancer

Complications

Shortness of breath
Coughing up blood
Pain
Fluid in the chest (pleural effusion)
Cancer that spreads to other parts of the body (metastasis)

Prevention

Don't smoke
Stop smoking
Avoid smoke
Test your home for radon
Avoid carcinogen at work
Eat a diet full of fruits and vegetables
Exercise most days of the week
In the Diagnosis & Treatment Page, you see the following content:
Diagnosis

Testing healthy people for lung cancer
Tests to diagnose lung cancer
Imaging tests
Sputum cytology
Tissue sample (biopsy)
Tests to determine the extent of the cancer

Treatment

Surgery

Lung Cancer Surgery

Wedge resection
Segmental resection
Lobectomy
Pneumonectomy

Radiation therapy
Chemotherapy
Radiosurgery
Targeted drug therapy
Immunotherapy
Palliative care
Clinical trials

Lifestyle and home remedies

Try to relax
Find a comfortable position
Focus on your breath
Save your energy for what's important

Alternative medicine
Coping and support

Learn enough about lung cancer to make decision about your care
Keep friends and family close
Find someone to talk with
In these two pages, all information about lung cancer is described in a laymen's term and is clearly presented. You should have most answers to your questions on lung cancer.  With these lung cancer knowledge foundation, you then may explore more specific areas of lung cancer, if you like.
Therefore, if you want to obtain lung cancer relevant information, the best way is going directly to the website of the top cancer hospital. All top cancer hospitals in US have extensive lung cancer program. If you don't find satisfactory answers to your questions, try a website of different cancer hospitals. They all provide reliable and trustworthy information. Here are some of the top lung cancer hospitals:
University of Texas MD Anderson Cancer Center (Houston)
Memorial Sloan-Kettering Cancer Center (New York)
Johns Hopkins Hospital (Baltimore)
Dana-Farber/Brigham and Women's Cancer Center (Boston)
Duke University Medical Center (Durham)
University of Washington Medical Center (Seattle)
Stanford Hospital and Clinics (Stanford)
University of Chicago Hospitals (Chicago)
University of California, San Francisco Medical Center (San Francisco)
If you have comment or question about this article, please leave them below. I will come back to you.